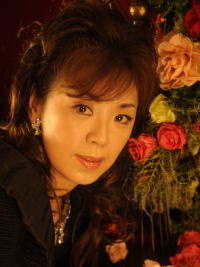 Profile: NORIKO IEDA


NORIKO IEDA, now one of Japanfs treasured soprano voices, began her opera career as;eMashaf in The Queen of Spades directed by a worldfs maestro Seiji Ozawa, right after graduating from the Tokyo College of Music.

She went on to perform at stages produced by Japanfs such leading music establishments as the New National Theater in Tokyo, Fujiwara Opera, Nihon Opera Kyokai, the Tokyo Chamber Opera Theater and the Japan Operetta Society.

She admits her unique opportunities to have worked with star singers like Giuseppe Taddei, Renato Bruson, Ruggero Raimondi, Giuseppe Sabbatini, Pietro Ballo, Fiorenza Cedorins, Mariella Devia, and Andrea Rost.

Also many of her stages were orchestrated by prominent conductors including Anton Guadagno, Gianandrea Noseda, Alain Guingal, Gustav Kuhn, Marco Boemi, Taijiro Iimori, Norichika Iimori, Michiyoshi Inoue, Naoto Ohtomo, Kazushi Ohno, Seiji Ozawa, Tadaaki Odaka, Hikonori Kikuchi, Makoto Suehiro and Hiroshi Wakasugi.
Backing her brilliant voices and acting prowess, her profound insights into opera works and interpretation of emotional bits and pieces have gathered appreciation from the opera directors.

In particular, NORIKO IEDA made her name as ePaminaf in The Magic Flute (Die Zauberflote) at the 5th anniversary concert of the Yokosuka Art Theatre as well as eMadame Cortesef in The Journey to Reims (Il Viaggio a Reims) at the 5th anniversary concert of the Japan Rossini Society.

She has special attachment to the opera eYuzuruf (Twilight Crane), composed by Ikuma Dan. It is based on a popular folk tale which has long been told on Sado Island (Niigata Prefecture) in the Sea of Japan, where she sang for its title role eTsuf. She played the same role on the 60th anniversary of the Bunkyo Ward Government in Tokyo (September 4, 2007)Ain Matsumoto City and Komagane City, Nagano Prefecture (September 14, 2008 and October 11,2009 in each city). The performance was also held in Sado City on September 21, 2009 for commemorating the 15th anniversary of the opening of Sado Amusement Grand Hall and the 5th anniversary of Sado City Government,at Niigata Convention Center gToki Messeh on September 25, 2010,on July 2010,in Rome and Paris will be a hot topic. May 2012, June 2013 Shinichiro Ikebe composer opera " Yaoya Oshichi " produced starring. In March 2013 Japan-Vietnam diplomatic relations between the 40th anniversary of the opera "Yuzuru" and starred in Hanoi, Vietnam performances. March 2014, Japan Opera Association "Shunkinsh?" its title role eShunkinh get a high reputation.

Other acclaimed title roles include; Madame Butterfly, Tosca, Katfa Kavanova, eMimif in La Boheme, eViolettaf in La Traviata, eMichaelaf in Carmen, eNeddaf in The Clowns (I Pagliacci), eAdinaf in The Elixir of Love (Dfelisir Dfamore), eFiordiligif in Thus Do They All (Cosi Fan Tutte), eDonna Elviraf in Don Giovanni, eRosalindef in The Bat (Die Fledermaus), eHannaf in Merry Widow (Die Lustige Witwe), eMargaretef in Faust and eMariaf in The Sound of Music.

At the newly-opened prestigious New National Theatre in Tokyo, she gained many fans with her charm and depth as eFrasquitaf in Carmen, ePedrof in Don Quixote (Don Quichotte), eAnnaf in Nabucco, eThibault (Tebaldo)f in Don Carlos (Don Carlo), eAnninaf in La Traviata and eHannchenf in The Opera Rehearsal (Die Opernprobe).

NORIKO IEDA is always challenging. She sang Mahlerfs Symphony of a Thousand in a subscription concert of the Tokyo Symphony Orchestra. She also joined such orchestras as; the Tokyo Philharmonic, the Japan Philharmonic Orchestra, the New Japan Philharmonic, the Japan Shinsei Symphony Orchestra, the Kanagawa Philharmonic Orchestra, the Osaka Philharmonic Orchestra, the Nagoya Philharmonic Orchestra, the Kansai Philharmonic Orchestra, the Hiroshima Symphony Orchestra and the Kyushu Symphony Orchestra.

Through these challenges, she has constantly expanded her wide-ranging repertoire including; Symphony No.9, Messiah, Mozartfs Requiem and Coronation Mass (Kronugsmesse), Mahlerfs Resurrection (Auferstehung), Mendelssohnfs Hymn of Praise (Lobgesang), Rossinifs Little Solemn Mass (Petite Missa Solennelle), Schumannfs Requiem and Schonbergfs Moonstruck Pierrot (Pierrot lunaire).

For those on the wave, her performance is beamed in radio programs like FM Recital and Best of the Classics by Japan's NHK-FM. She joined the Suk Chamber Orchestra during its Japan concerts. On stage abroad, she grabbed hearts of Romanians in Madame Butterfly for the subscription concert of the Targu Mures Philharmonic Orchestra. In South Korea, she has become a frequent guest performer for the Seoul National Symphony Orchestra, the Gangneung Philharmonic Orchestra and the subscription concert of the Korea Oratorio Singers.

In China, she sang R. Straussfs Four Last Songs (Vier Letzte Lieder) for the subscription concert of the Shanghai Broadcasting Symphony Orchestra. Later, on the occasion of the 30th anniversary of Japan-China diplomatic normalization, she was invited to Dalian for a commemorative concert.

Her soprano, graceful and beautiful, coupled with her distinguished singing and acting skills, has captivated numerous audiences everywhere she sings.

Her first CD is: gEternamente|Eternallyh (wwcc-7462 Nami Records Co.,Ltd.),the second one is gNatsukashiki Omoi|Yoimachigusah (wwcc-7535 Nami Records Co.,Ltd.) and the third one is gVissi dfarte,vissi dfamoreh (wwcc-7588 Nami Records Co.,Ltd.).

Her web site: www.iedanoriko.com

NORIKO IEDA is a member of Fujiwara Opera, the Japan Federation of Musicians and serves on the steering committee of the Japanese Rossini Society.